The Irish Pub on Washington Street-For Sale!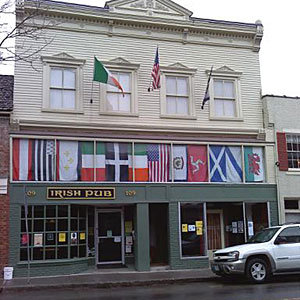 February 2016
Do you or anyone you know, have a dream of owning an Irish pub in the USA? Here's is a real steal at a great price, where you can own the business, the building, and 3 apartments over the pub. This Irish pub was established almost 10 years ago and is doing a great business, but the owners are ready to retire and move on to other dreams. Imagine owning your own Irish pub with no landlord and living in one of the apartments located over the pub (saves on rent and you can rent the other apartments out for additional cash flow!) All this for an all in price of just $955,000.00. A true turn-key operation!

The pub is owned by Patrick and Andrea Izzo O'Flaherty and Andrea's parents, Pat & Willa Izzo. Many of you may know Connemara man Patrick O'Flaherty, long time Irish musician who played in Irish bands such as "The Celtic Folk" and, "The Poor Clares" in the DC metro area, New York, PA, Louisiana and many other places since the 70's. Patrick and Andrea both have a very long history in the pub and Irish pub business and have created a great pub in Lewisburg, WV (about 4 hours drive west from DC). This pub was recently voted the #1 Irish pub in West Virginia by Yelp reviews.

If owning your own Irish pub is not your thing, but you know someone who has always wanted to own their own Irish pub, please forward them this email notification being sent to subscribers of www.IrishUSA.com exclusively. More details are at the bottom of this page and at the real estate listing at: http://lewisburghomes.com/details.aspx?rtn=commercial_listings.aspx&pg=&page=4.
Irish Pub on Washington Street
109 Washington Street
Lewisburg, WV
www.irishpubonwashingtonstreet.com

Articles about the Irish Pub on Washington Street

http://www.buzzfeed.com/anniedaly/kiss-me-im-drunk#.kbmDMKYPY Best Irish Pub in the state of West Virginia 2016

http://theculturetrip.com/north-america/usa/west-virginia/articles/eating-out-in-lewisburg-wv-the-10-best-restaurants/?utm_source=emails&utm_medium=featured&utm_campaign=101114westvirginiafood- The best 10 restaurants in Lewisburg, WV

http://www.nola.com/saints/index.ssf/2014/07/irish_pub_greenbrier_saints.html

http://www.southernliving.com/travel/souths-best-bars-0/irish-pub-washington-street-souths-best-bars